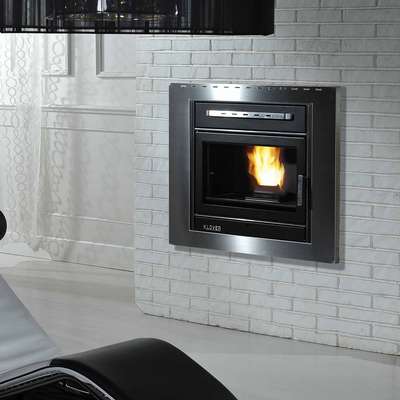 The Klover pellet insert is designed to fit into an existing chimney breast or be built into a corner or an exterior wall. With a total heat output of nearly 15 kWs, this will take care of the heating and hot water in a decent sized home.

Technical Data
Height: 686mm
Width: 758mm
Depth: 675mm
Efficiency: 91%
Nominal Output to Water: 12.6kW
Nominal Output to Room: 2.2kW
Minimum Output to Water: 4kW
Minimum Output to Room: 1.6kW
Efficiency At Minimum Output: 94.3%
Fuel: wood pellets
Weight: 270kg
Other Descriptor: Inset, Free Standing, Boiler
Contact Klover Pellet Stoves
If you need further information or would like to enquire about purchasing this stove, please fill in the form below and we will get in touch.