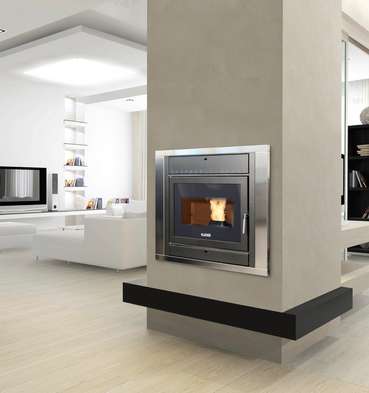 The Klover PFP 22 is an inset wood pellet boiler. The great advantage of an inset is that you still get a great view of the flames but the boiler does not encroach into the room. The PFP 22 has a relatively high heat output and so can provide the heating and hot water for a relatively large home. At reduced output the PFP wood pellet boiler has an efficiency of 95.9% - making it probably the most efficient inset pellet boiler in the world and certainly up there with only a very few other pellet boilers in terms of efficiency.

Like nearly all of the Klover wood pellet boilers the PFP 22 is MCS certified and applicable for the RHI grant scheme.
Technical Data
Height: 870mm
Width: 865mm
Depth: 770mm
Efficiency: 90.2%
Nominal Output to Water: 18.3kW
Nominal Output to Room: 1.8kW
Minimum Output to Water: 5.6kW
Minimum Output to Room: 0.7kW
Flue Diameter: 100mm
Fuel: Wood Pellets
Weight: 250kg
Other Descriptor: Inset, Boiler
Contact Klover Pellet Stoves
If you need further information or would like to enquire about purchasing this stove, please fill in the form below and we will get in touch.