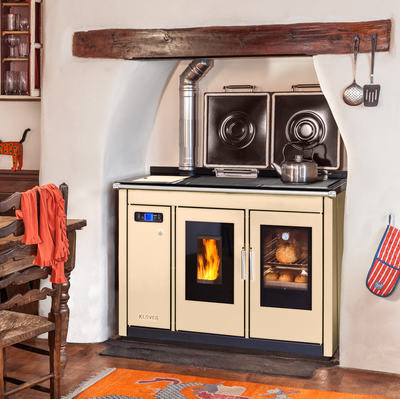 Designed specifically for the UK market, the Traditional Smart 120 will bring classic style to your kitchen, with its enamelled top, handrail and optional hob covers, and choice of cream, red and black finishes. The Traditional Smart 120 performs in the same way as the Smart 120, giving 17.5kW to water and 5.2kW to room; if fitted with hob covers, this will add more heat to water and reduce the heat to room. The stove also runs at the same impressive 90% efficiency.

Technical Data
Height: 875mm
Width: 1200mm
Depth: 630mm
Efficiency: 90.1%
Nominal Output to Water: 17.5kW
Nominal Output to Room: 5.2kW
Minimum Output to Water: 4.5kW
Minimum Output to Room: 2.4kW
Efficiency At Minimum Output: 92%
Hopper Capacity: 32
Flue Diameter: 100mm
Weight: 290kg
Other Descriptor: Free Standing, Boiler, Cooker
Contact Klover Pellet Stoves
If you need further information or would like to enquire about purchasing this stove, please fill in the form below and we will get in touch.